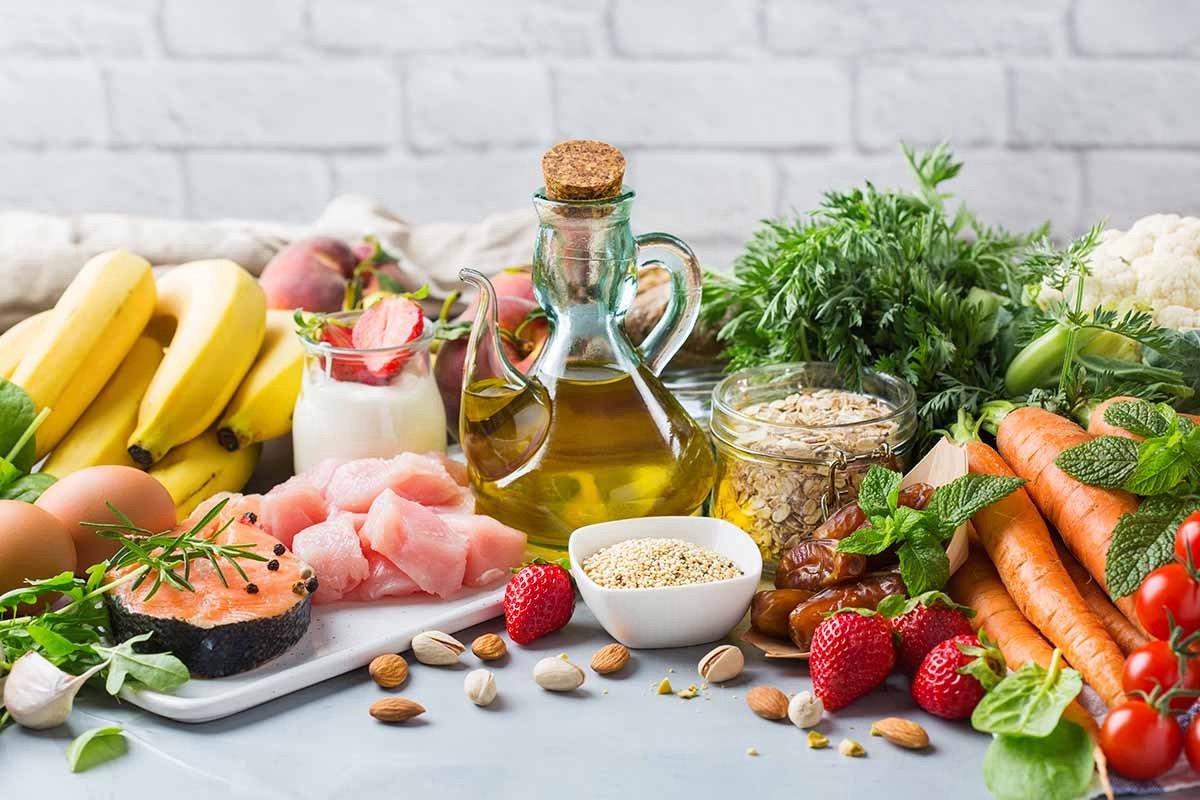 The Mediterranean Diet is a term used to describe the traditional eating patterns of the folk who live in various regions around the Mediterranean Ocean. A traditional Mediterranean Diet can contain quite different regional foods depending upon which part of the Mediterranean area you are visiting. For example, people living in Spain, Greece, Italy, and Crete all follow a basic Mediterranean style diet, but local produce, seafood, and herbs, will result in vastly different Mediterranean cuisine.
The Mediterranean Diet is most famous for its generous inclusions of monounsaturated fats such as olive oil, fruits, vegetables, seeds, nuts, legumes, and wholegrain cereals. Those partial to their red vino will be thrilled to note that red wine is on the menu if your doctor approves. Red meat is eaten infrequently, with a bigger leaning towards seafood. Dairy products such as eggs, yogurts, and feta cheese are eaten in low to moderate portions. Western style fats and oils, such as butter, margarine and other saturated fats are consumed infrequently, if at all.

The Mediterranean Diet is also well known for reducing heart and vascular disease, along with inflammatory diseases. Blood levels for sugars and cholesterol are also medically recognised health benefits of the Mediterranean Diet. All of these are factors that can play a huge part in developing both Alzheimer's and Dementia. Researchers also noted that many ingredients of a healthy Mediterranean Diet, in particular, fish, alcohol, and polyunsaturated fatty acids, are all capable of producing beneficial results on early Dementia, or mild cognitive impairment, and also whether early Dementia progresses on to Alzheimer's Disease.
Mediterranean Diet foods include:
* olive oils, preferably extra virgin to obtain full health benefits.
* oily fish, such as salmon.* nuts such as peanuts, almonds, and walnuts.
* whole grains and pastas, cous cous, rice, polenta, lentils, and chickpeas.
* grapes, olives, and avocados.
* fresh vegetable such as tomatoes, spinach, eggplant, garlic, and peppers, to name just a few.
* seasonal fresh fruits.
* yogurts and feta cheese.
* red wine with medical approval.
* red meat eaten infrequently.
* poultry eaten in low to moderate amounts.
* olive oil used as a substitute for butter or margarine.
Conclusion.
The proven health benefits of the Mediterranean Diet are impressive. Those who are concerned about preventing Dementia and Alzheimer's Disease can dramatically reduce their risks by up to 48% by sticking to a strict traditional Mediterranean diet. Mediterranean foods such as olive oil, olives, red wine, fish, fresh fruits and vegetables, along with whole grains, nuts and seeds are the basis of a Mediterranean eating plan. Red meat is eaten infrequently, and saturated fats such as butter and margarine are rarely consumed, if ever. Further evidence that you are what you eat.